STRiDA LT Folding Bike Performance and Reviews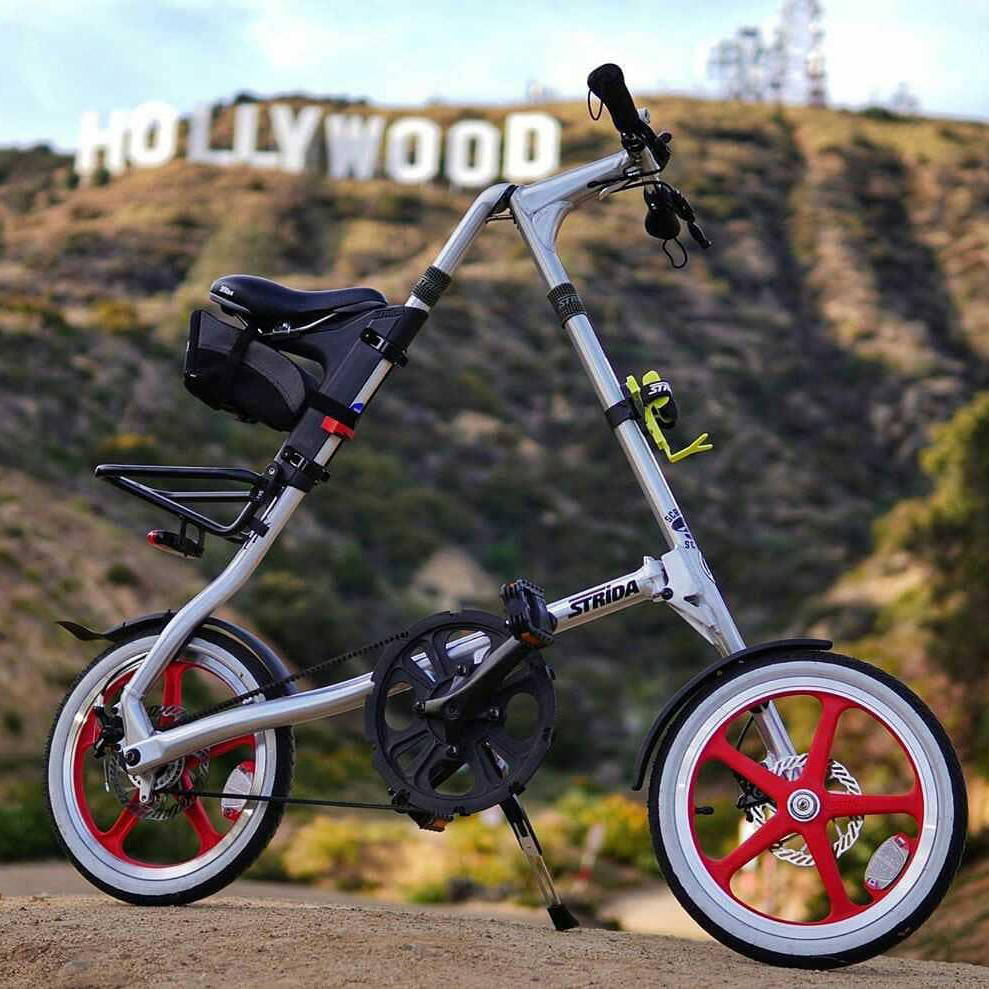 STRiDA LT is a folding bicycle with a triangular A-frame and a unique façade. It is ideal for urban environments and is generally used for riders who use multiple transport modes. For example, it is perfect for a rider who wants to reach a train or bus and must take a vehicle to reach that short distance.
STRiDA LT is designed with help of the latest technology to provide an easy and comfortable ride to the regular rider. It is available as both men's and women's bike and that too in diverse colors like White, Turquoise, Red, and Black. It has become quite convenient for a rider to make his/her purchase according to their individual tastes. Brand STRiDA sells an unpadded soft bag for air travel with this bike at minimum cost.
This folding bike weighs only 10 kg and is very light and so can be easily carried to any place. As it folds in a very compact manner it is easy to stow it away in small spaces. Assembling and disassembling of this bike is very easy and fast and its dimensions after folding are 45*20*9 inches. It is easy enough to wheel away from the folded bicycle.
The frame and fork of the bike are made up of 7000-series aluminium and hence it is very light. The bike can carry a rider of a maximum weight of 22lbs. It supports a rider with a height varying from 4'inches to 6'4 inches. The bike favors an upright style of riding and it is suited for people who favor riding in everyday clothes.
Important features of the STRiDA LT folding bike include horizontal handlebars, fenders, rack, and seat with pressure-relief. The bike has greaseless belt-drive and disc brakes that help in reducing the accumulated dirt on the wheels of the bike.  16-inch wheels come in handy while traveling on roads.
Features
Colors: Turquoise, Black, Red, White
Weight: 22 lbs (10 kg)
Folded Dimensions: 45″ x 20″ x 9″ (114cm x 51cm x 23cm)
Frame: 7000 series aluminum
Unadjustable seat mounting
Can be stored vertically or horizontally
Can be rolled when folded
Folding pedals
Belt is included
Bottom bracket: Welded
Speeds: single speed
Drive Train: STRIDA special belt drive that is clean, grease-free, and can last up to 50,000 miles
Wheels: 16″ plastic wheel
Brakes: disc brakes
Rear Carrier: plastic
Fenders are included
Pros-
Very easy and quick to assemble and disassemble
Convenient and easy to handle
Rust-resistant
Durable
Cons-
Not ideal for long rides
The single gear is not sufficient for handling the bike on steep terrain
Unusual appearance
Conclusion
STRiDA LT is a favorite possession for short distances and provides a comfortable ride because of its triangular frame.
Article Resource: https://www.foldingbikesreviews.com/strida-lt/