Strida LT Review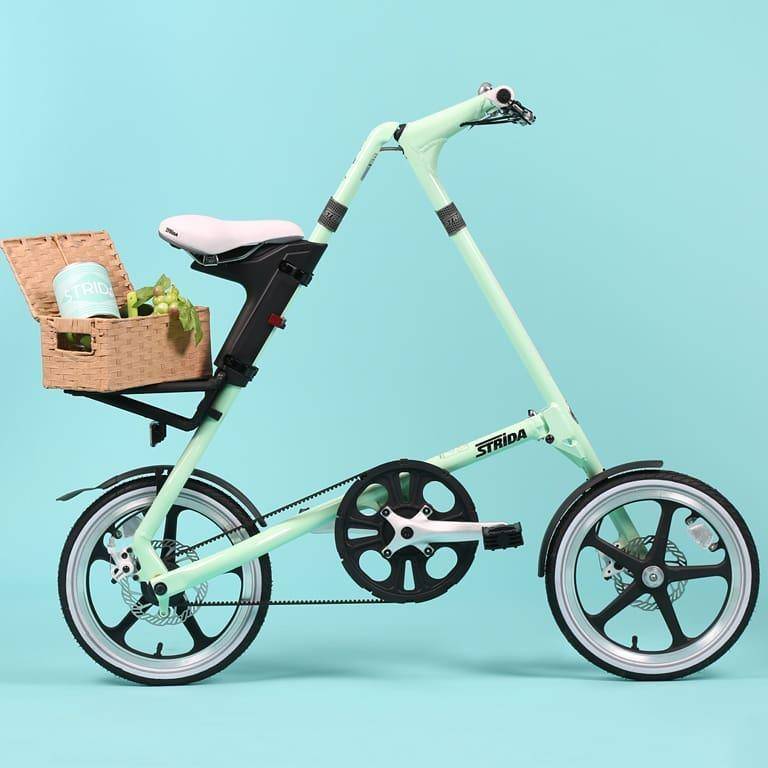 With a truly unique triangular frame designed for an erect riding position and best-in-class visibility, the Strida LT Folding Bike blows any major competition out of the water as a means of effortless urban and leisure transportation. The Strida is all about elegance, and uses a Kevlar greaseless belt drive system instead of the regular oily chain and gears found in bicycles. Now you can comfortably bike around town without worrying about oil spray and chain grime.
The effortless folding design is like no other in its simplicity, and the Strida will fold in under 5 seconds, without you having to do much work, thanks to the bike's magnets that come into action. Its short wheelbase makes it easily blend in with pedestrian traffic. When folded, it is smaller still, offering the smallest footprint for any full-sized folding bike. Store it anywhere, literally. The rear luggage rack is a useful feature, and doubles up as a convenient carrying stand in the folded state. The Strida rolls easily and doesn't need to be carried when folded.
Product Features and Specifications
Ingenious lightweight triangular frame folds in under 5 seconds
First radical bike geometry in almost a century
7000 series powder – coated rustproof aluminium frame
Kevlar greaseless belt drivetrain (up to 50000 miles)
Horizontally mounted handlebars for an upright seating position and clear view of the road
16" nylon wheels
Cable disc brakes
Single speed
Gel grips
Luggage rack holds up to 13 pounds
Weight : 22 pounds
Weight (shipping) : 25 pounds
Recommended rider height : 4'9" to 6'4"
Max riding weight : 220 pounds
Warranty : Lifetime (frame), 1 year (components)
The Strida LT Folding Bike has received some very positive reviews at Amazon.com and is currently rated 4.9/5 stars.
The Positive Reviews
With an average of 4.9 stars out of 5, the Strida LT Folding Bike has obviously received a lot of positive feedback from its customers.
Most of the reviewers expressed admiration for the quality of materials used. The Strida feels like a high-end bike, and rides like one too.
The disc brakes are among the best in the market and are easy to engage.
The Strida folds quite compactly and can be stored carried and rolled anywhere. The folding mechanism is quick and easy and the built in magnets handle the job effortlessly. None of the reviews mentioned a folding time exceeding 10 seconds.
The belt drive system is quite a hit with customers, and prevents the rider's clothes from getting dirty with chain grease. The belt system also makes for a quiet riding experience, another plus point.
The Strida is not a fast bike, and is great for slow maneuvering, especially in crowded areas. It is decently stable at low speeds, and can be easily balanced once you get used to the super sensitive steering.
The Negative Reviews
Although the Strida LT Folding Bike has received mostly positive feedback, it has received a few negative reviews from customers, who have found some of its aspects less than impressive.
A few of the customers have complained that the seat is a bit hard. The Strida LT is built primarily for short distances and the stock seat suffices for that purpose. However, for longer distances, one can always the replace the seat with a softer one.
Because of the shift in balance and the light front wheel, steering is a bit tricky. Some of the reviewers have pointed out that the bike's steering is quite sensitive and feels twitchy. To reduce the steering response, you can try lowering the seat so that the center of gravity also lowers. This should make the bike more stable.
Some of the tall customers have experienced trouble in fully extending while riding because of the short handlebars. Replacing them with extended ones should do the trick. Otherwise, they work fine for riders of medium height.
The Strida has a single speed drive, capable on most commutes but not built for steep climbs.
Conclusion
Would we recommend the Strida LT Folding Bicycle to our readers?
Absolutely, and here's why:
The Strida LT is an uber-stylish folding bicycle designed as an elegant alternative to other folders. It does what it does extremely well, and that is deliver a fun and smart riding experience with minimal maintenance. The Strida is genuinely hassle-free. Thoughtful features like the kevlar belt drive train and the magnetically aided folding mechanism make the Strida a very able urban commuter. If you're a busy bee who desires a trendy yet practical means of conveyance but has little or no time to spend on its upkeep, the Strida LT Folding Bike is the bike for you.
Article Resource: http://bikesrater.com/strida-lt-folding-bike-review/